Lanai Bright
Packed with Features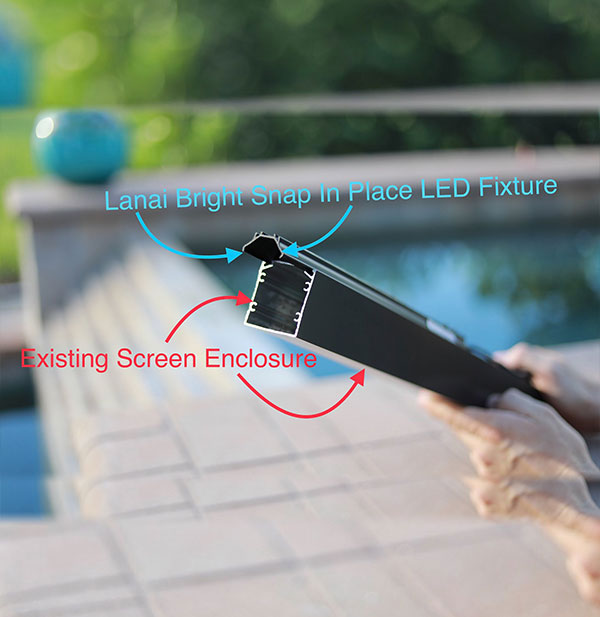 Linear (3 Feet in Length)
Designed as overhead lighting and installed on the ceiling of the screen enclosure
Excellent as task lighting and for evenly lighting up your entire pool and decking area
Ideal for illuminating a lanai for entertaining, dining, and relaxing
Profile (1 Foot in Length)
Designed as a sconce and installed on the wall beams of the screen enclosure
Excellent for ambiance lighting for the perimeter of your pool and lanai decking
Ideal for creating a perfect atmosphere and setting the tone for your outdoor living space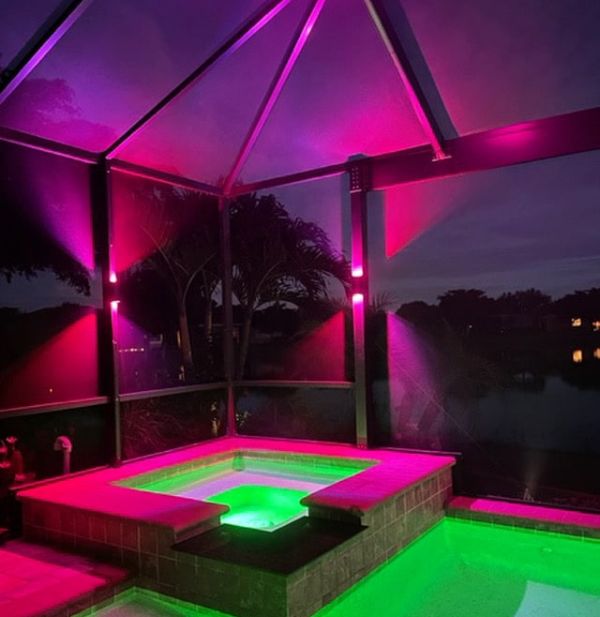 Up/Down
Up and Down Lights are a great way of creating atmosphere on your screen enclosure and lanai
They wash screen enclosure with a decorative two-way pattern of light for a cozy, welcoming effect.
Wide beam angle creates an ambient element when shining upward into a large space and downward along pathways and edges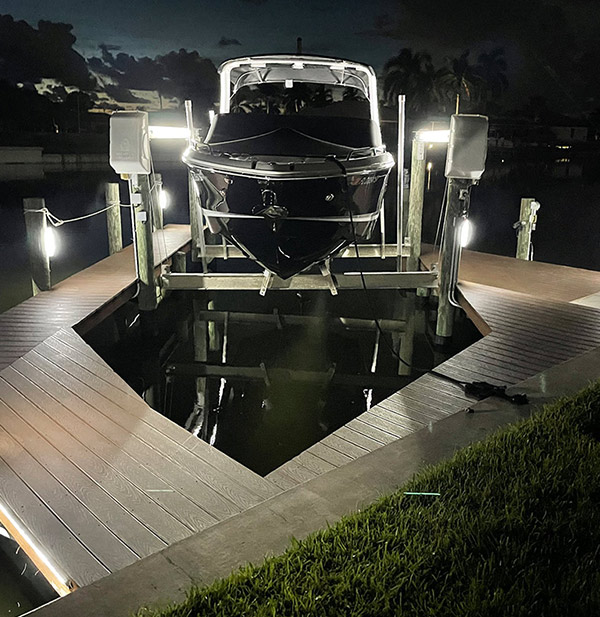 Dock
Light up your pillars, boat lifts, pathway, and under decking
Excellent for ambiance, safety, cleaning your boat and for safely parking your boat at night.
Ideal for creating a perfect atmosphere and setting the tone for your outdoor living space
Down
Pathway LED as lights are an excellent way to illuminate your entry and exit of your screen and lanai enclosure
Their wide angle beam casts a soft and effective lighting
Ideal for the border of your lanai, above the screen doors, along the exterior border of your cage for illuminating your exterior landscape
Highlights
Hardwired Low-voltage
Fully Customizable
Multi Colored
Programmable Zones
Adjust the brightness
Lanai Bright APP
Remote
Timer
You're in Control
Adjust the brightness and select from sixteen million colors with the touch of a button by using our remote or by downloading the app to your phone. Full customization in the palm of your hand.
Patented "No-Show" Install
Other installers use tape and glue that won't last longer than a few years. Lanai Bright's patented technology integrates directly into your existing lanai structure. The result is seamless: no tape, no glue, no mess.